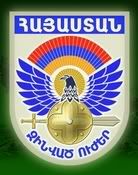 Armenian army capable to defend fatherland
26.01.2007 16:15 GMT+04:00
/PanARMENIAN.Net/ With professional officer staff and modern
equipment, the Armenian Army is capable to fulfill all tasks set to
it, said RA First Deputy to Defense Minister, Colonel General Mikael
Haruryunyan who took part in the preparation of the forum dedicated to
the 15th anniversary of the Armenian Armed Forces. According to him,
the Armenian Army is well skilled and special attention is paid to
training of the staff. `God forbid, if hostilities are launched the
Armed Forces will be capable to defend the homeland,' he said adding
that Army is not a frozen organism and can develop. `Certainly, not
all the problems were settled during 15 years. There are international
standards we should head for and then apply taking into account
national peculiarities. A national doctrine based on the experience of
developed states should be worked out. I am convinced we'll
succeed. However, we do not want to carry out military reforms at the
expense of the taxpayers. We should do our best to efficiently use the
funds allocated to the army,' the Col. Gen. said.
In Harutyunyan's words, presently the people's trust in the army
reached 80%. He emphasized that the Armenian Army is firm and
equipped. `Any wish to launch aggression against Armenia can be
forgotten. The army is capable to defend the fatherland,' he resumed,
reports IA Regnum.